"Luminous SOUND"
as >>emerging existence<< in space and time

"Sounding LIGHT"
as >>existing emergence<< of time in space
Studio <SA/JO>
Sabine Schäfer
At the center of the micro-sound-LED-light-art of <SA/JO> is the perception of "resounding-shining" nature, the unknown world that is hidden within animal voices' and light's sound, color, and space microcosms.
more informations:
Sabine Schäfer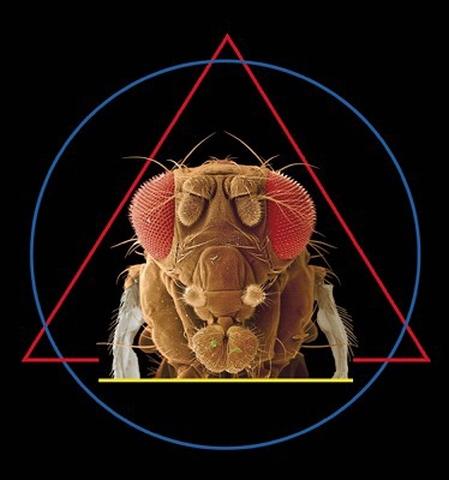 The square of topics by <SA/JO>


ART – NATURE – SCIENCE – TECHNOLOGY

SolarSonic Insects
MicroSonical Shining Biospheres
Co-operations with scientists an scientific institutions
Publications (selection)
ESSAY
Deleuze and the Sampler as an Audio-Microscope
On the music-historical-esthetical and philosophical foundations of the digital, micro-acoustic recording, analysing and production process "EndoSonoScopy"
2010, LIBRI Publishing U.K.
ISBN 9781 9047 50277

CATALOG
TopoSonic Arts
Aesthetics and selected works of the artist couple 1997-2006
Including a documentation of the spatial sound art projects by the
solo artists Schäfer and Krebs 1994-1999
2007, Ed. Kehrer Heidelberg (Engl./Ger., CD Supplement)

SOUND
TopoSonic Spheres
22 Space-soundMilieus with
Sound-microscopied voices of insects and nature sounds
CD / DVD WERGO Schott Mainz
ARCHIVES
with Works by the artist couple <SA/JO> and the solo artists
Since July 2011: mediaartbase.de – Data collection for international media art www.mediaartbase.de
Since December 2011: sonospheres.org an archive for radio plays of sonic art with productions of the radio station "DeutschlandRadio Kultur"

Since 2008 "Weserburg" Museum for Modern Art Bremen:
"Radio As Art" – Archive for radio art

Since 2007: audio and video collection of the Media Library | Center for Art and Media (ZKM) www.zkm.de

Archives of the "Deutscher Musikrat", CD series:
"Musik in Deutschland 1950-2000" und "Edition Zeitgenössische Musik" Compositions by the solo artists Joachim Krebs and Sabine Schäfer
Current Exhibitions

Science Center "phaeno" Wolfsburg
TopoSonic Tunnel
Accessible Space-soundBody within the architecture by Zaha Hadid Permanent exhibition, Tue – Sun: 10h –18h, www.phaeno.de
Center for Art and Media (ZKM) / VIP Lounge
SpaceSound-Installation
Collection of the Center for Art and Media ZKM Karlsruhe
Permanent Exhibition

Bern University of the Arts
Hörbild
Space-sound object
Permanent exhibition at the department Music and Media Art, www.medien-kunst.ch
By appointment only: Contact
Studio <SA/JO>
The studio <SA/JO> was founded in 1998 by the couple of artists <sabine schäfer // joachim krebs> (since 2009 named <SA/JO>). Since 2014, beyond the veil of Joachim Krebs, the Studio <SA/JO> is continued by Sabine Schäfer.
Joachim Krebs:

old.joachimkrebs.de
Wikipedia: Joachim Krebs
Sabine Schäfer:

www.sabineschaefer.de
Wikipedia: Sabine Schäfer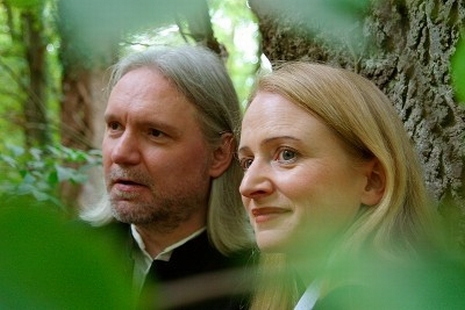 <SA/JO> Sabine Schäfer / Joachim Krebs
Foto: © Felix Groß
TopoSonic Arts
– To Render the Inaudible Audible

I.
The Acoustic Microcosm of
Animal Voices and Natural Sounds

Since 1998, our Space-sound art has focused – and does so almost exclusively today – on the so far practically unknown "Space-sound world of micro-acoustic dimensions" of animal voices and natural sounds, a world at the first glance concealed "inside" nature's sounds and noises.

In order to render the "intrinsic" acoustic micro-dimensions of both animal voice and natural sound we developed a universally unique further specifically scientific/acoustic procedure by the end of the 1990, the so-called "TopoSonic-Audio-Slow-motion" and "Inner Space-sound Microscopy" (Endo-Sono-Microscopy) using a computer-based instrumental equipment.

Using these universal-elementary and quasi "trans-cultural" Space-sound materials, we have now, among others, been able to realize Space-sound art works which continuously oscillate between "natural" (nature) and "artificial" (arts) sounds and which directly address human on a holistic level, as far as possible beyond national language and intellectual barriers – the listener does not need any specific preliminary cultural knowledge – to offer him/her, in the first place, an extraordinary "listening experience".
II.
The Range of TopoSonic Art Works 1998 and 2006


The range of TopoSonic Art projects we realized in the past years at a wide variety of performance and installation locations covers:

Radiophonous-electro-acoustical Space-sound compositions, e.g.

TopoSonic Spheres – A Space-soundComposition (2004)
ProsaPhon(ie) – A sonoTopological Speech-sound Consistency Machine (2002)
AquaAngelusVox – A Space-soundMandala with Hildegard von Bingen (1998)

as well as:

Concert-based installative performances
by internationally prestigious festivals for Contemporary Music, e.g.

Sonic Lines n´Rooms (Internationale Donaueschinger Musiktage 1999)
…raumKLANGraum…entgrenzend… (ISCM World New Music Festival 2006)

and:

Purely installative circumambulatory and enterable Space-soundBodies with staged light
for open (natural) space (so-called "listening islands") as well as
closed (art) spaces (so-called "listening room with staged light"),
These are added quasi "invisibly", e.g.

Outdoors: Garden Festival "Natur und Kunst" Castle Ippenburg (2005)
Indoors: Science Center "phaeno" Wolfsburg, Architecturs: Zaha Hadid
(Permanent exhibition since Nov. 2005)

Or else presented as a "stand-alone" and/or "space in space" concept, e.g.

Space-sound tent SonicRooms (1998)


III.
Audio Video installations


The art project series MicroSonical Shining Biospheres


The audio video installation MicroSonical Shining Biospheres No.1 (2009)

The audio video installation and the MicroSound-LED-Video-Light-Triptych #2 (2012)