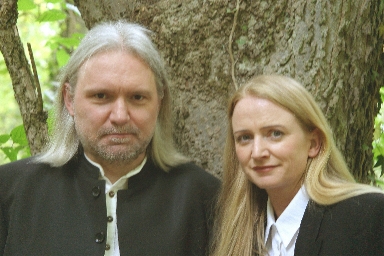 <sabine schäfer // joachim krebs>
photo: © Felix Groß
<SA/JO>
Sabine Schäfer / Joachim Krebs
At the center of the micro-sound-LED-light-art of the artist couple is the perception of "resounding-shining" nature, the fantastical world that is hidden within animal voices' and light's sound, color, and space microcosms.
The media artists gather their artistic-acoustic-visual base material exclusively from the animal world and nature and with it, create a spatial-sound-color-light-art.
Recently they are working on the project series "MicroSonical Shining Biospheres" and concepts for topical attributed scientific collections which can be presented optional within the exhibition context.
Works and publications 2003 – 2009
selected information
Installationview, Photo: Johanna Pohlmann

Enterable Space-soundBody
Within the architecture by Zaha Hadid


Permanent exhibition at the
Science Center "phaeno" Wolfsburg


www.phaeno.de
Tue to Sun: 10:00 to 18:00 h
________________________________________________________________________________
________________________________________________________________________________
Deleuze and the Sampler as an Audio-Microscope
On the music-historical-esthetical and philosophical foundations of the
digital, micro-acoustic recording, analysing and production process "EndoSonoScopy"
by <sabine schäfer // joachim krebs>
in the context of the book publication "Recorded Music - Philosophical and Critical Reflections"
ed. Dr Mine Dogantan-Dack
Middlesex University Press London 2008
TopoSonic Spheres - A SpaceSoundComposition


A TopoSonic Mandala with Hildegard von Bingen
<sabine schäfer // joachim krebs>
Space – Sound – Time – Movement
The Space-soundInstallations of the artist-couple <sabine schäfer // joachim krebs>
in: Organised Sound - An International Journal of Music and Technology
Vol. 8 No. 2 / subject of the issue: "soundinstallation"
Cambridge University Press UK 2003, www.cambridge.org
Abstract
The article gives a compact and topical review in the most substantial aspects of our work. It has three chapters as well as a preface and an afterword which are written by the musicologist Dr. John Dack and the media artist Ralf Nuhn. According to Dack and Nuhn, our work in the field of space-sound art realizes principles that are of essential meaning in the entire sphere of sound installation art. They explain their approach in the preface and the epilogue. As they also translated this article, you will find in their introduction detailed notes on the translation of our individually developed terminology.
• Chapter 1 "Time Becomes Space - Space Becomes Time"
The first chapter deals with basic connections between the phenomena space, time, sound and movement which are of essential meaning in our space-sound art.
• Chapter 2 "Artificial Soundscapes between Pure Realism and Pure Abstraction"
One of the fundamental aspects of our work is to apply "sound microscopy" to natural sounds (especially animals' voices and nature sounds), and to render intrinsic sound structures with their "rhythms", "melodies", "harmonies" and spatial characteristics audible. In chapter 2, we deal, among others, with the selection of materials, production procedures and also with the forming of consistencies and inner sound intensities which are rendered audible by employing certain working techniques.
• Chapter 3 "The Five Most Important Types of Space-soundInstallations"
In the course of our common work, we developed a range of concepts for the realization of space-sound installations. Chapter 3 presents the different sound installation models and categories quoting examples from our oeuvre.
Ed. Kehrer, Heidelberg: "TopoSonic Arts 1997 – 2006"
Documentation of the artist-couple's works containing fundamental texts on aesthetics and philosophy
________________________________________________________________________________
10 Years of TopoSonic Arts – To Render the Inaudible Audible
– The Acoustic Microcosm of Animal Voices and Natural Sounds –

I. The Fantastic "Space-sound World of Micro-acoustic Dimensions"
II. The Range of TopoSonic Art Works Realized Between 1998 and 2006


I.
The Fantastic "Space-sound World of Micro-acoustic Dimensions"
Since 1998, our Space-sound art has focused – and does so almost exclusively today – on the so far practically unknown fantastic "Space-sound world of micro-acoustic dimensions" of animal voices and natural sounds, a world at the first glance concealed "inside" nature's sounds and noises.

We have successfully managed to render the "intrinsic" acoustic micro-dimensions of both animal voice and natural sound audible for the first time; dimensions so far inaudible und thus practically unknown to humans. To achieve this goal, we relied both on a computer-based instrumental equipment that, due to general digital-technological developments rather sporadically started to establish itself on the market in the 1980s as well as on a universally unique further specifically scientific/acoustic procedure we developed by the end of the 1990, the so-called "TopoSonic-Audio-Slow-motion" and "Inner Space-sound Microscopy" (Endo-Sono-Microscopy).

Using these innovative, universal-elementary and quasi "trans-cultural" Space-sound materials, we have now, among others, been able to realize Space-sound art works which continuously oscillate between "natural" (nature) and "artificial" (arts) sounds and which directly address human on a holistic level, as far as possible beyond national language and intellectual barriers – the listener does not need any specific preliminary cultural knowledge – to offer him/her, in the first place, an extraordinary "listening experience".
II.
The Range of TopoSonic Art Works Realized Between 1998 and 2006
The range of toposonic art projects we realized in the past years in the most diverse fields and market segments and at a wide variety of performance and installation locations covers:
Radiophonous-electro-acoustical Space-sound compositions, e.g.

•

•

TopoSonic Spheres – A Space-soundComposition (2004)
AquaAngelusVox – A Space-soundMandala with Hildegard von Bingen (2003)
as well as:
Concert-based installative performances by internationally prestigious festivals for Contemporary Music, e.g.

•

•

The TopoSonic Art Project Series Sonic Lines n´Rooms (1999)
…raumKLANGraum…entgrenzend…

- A Perambulatory Space for Electro-acoustical Space-sound Art (2006)
and:
Purely installative "circumambulatory and enterable Space-soundBodies with staged light" for open (natural) space (so-called "listening islands") as well as closed (art) spaces (so-called "listening room with staged light"), e.g. for museums, galleries et al.

These are added quasi "invisibly", e.g.

A)

B)

Outdoors:

Garden Festival "Nature and Art", Castle Ippenburg, (2005)

Indoors:

Science Centre "phaeno" Wolfsburg (permanent exhibition since Nov. 2005, architecture: Zaha Hadid)

Or else presented as a "stand-alone" and/or "space in space" concept; from the toposonic art project series "Sonic Rooms" (1998) up to the recently developed toposonic art project series "AUDIO-BIOSPHERE" (2008)
________________________________________________________________________________
SpaceSound Object


HÖRBILD
Bern University of the Arts
Continuing loan
Since January 2009

"TopoPhonia No. 4" at:
Musik in Deutschland 1950-2000
(Music in Germany 1950-2000)
Electroacoustic Music / Studio productions
CD series by the "Deutsche Musikrat" Bonn (GER)
The Space-sound Art Project "TopoPhonia"
at the ZKM │ Centre for Art and Media Karlsruhe


Ed. Kehrer, Heidelberg: "TopoPhonien".
Documentation on the space-sound art project by Sabine Schäfer, available by July 2007